7 Tips for Running a Successful Office Pool
Advice from the Co-Founder of Office Pool Junkie
I've been running a series of successful NFL office pools since the 1999 season, starting with a standard Pick 'Em pool against the spread. I was using Excel spreadsheets and wrote macros to automate some of the more manual intensive tasks, like creating the weekly pick sheet and compiling weekly results and standings. But even with this automation, the weekly distribution and receipt of the pick sheets had become my biggest manual pain point.
In 2004, I wanted to introduce an NFL Survivor format but seeing I didn't want to add to my manual efforts, I decided to put both pools on the web, which alleviated my biggest pain point tremendously. From the feedback I received from my participants, it was clear they were enjoying the experience because through word of mouth alone, my point spread format had grown by almost 80% and my survivor by 300% over the following 2 seasons! Seeing an opportunity, that private pool web site turned into Office Pool Junkie.
There are several things to consider when running a successful office pool. And by successful, I mean one you want to run year after year with an increasing number of participants. I always say when advertising my pools: More people = bigger prizes!
I hope the following tips will help you achieve running that successful pool!
1. Settle on Options Early
Prepare your pool and think of the options and features you want your office pool to have. Once your pool has started, stick with those options. Changing them after your pool is underway can be misconstrued by your participants seeing they agreed to join your pool based on the options that were originally advertised. When introducing a change, I always wait until the following season. If you impose a change after your pool is underway, be sure to notify your participants of any changes to show transparency.
2. Be Clear on Payments
It's perfectly reasonable to run an office pool with no entry fee, but if you are collecting entry fees (and awarding prizes), the Pool Notice is a very effective way to advertise your payment options. I recommend including (and sticking by) a deadline for entry fees to be paid too (more on that under Tip #4).

Tip:
Click here for instructions on posting a Pool Notice.
3. Send Out Invitations
Each season, I typically invite people who played in my office pools the previous season. I always encourage them to forward the invites to their friends and family, ensuring that each season, the pool has people who are interested in playing. If someone missed a season and did not receive an invite, they know how to contact me to get back in.
I typically blast out invites 3 times:
About 3 to 4 weeks before the season starts
About 2 weeks before the season starts
With 3 or 4 days left, calling out the "last minute club"
I find the above frequency provides a decent balance for collecting and recording entry fees, as opposed to being bombarded with them all at the last minute.
If you're using your own email program to invite people to join your office pool, I STRONGLY recommend including the Join URL as it simplifies the experience for your potential participants tremendously. With the Join URL, your unique Pool ID and password are embedded in the link. When using the site to send invites, the Join URL is included by default.
4. Collect Your Entry Fees Promptly
I find the most difficult part of running a pool is collecting entry fees from participants. This is something I personally like to get out of the way as soon as possible so I can enjoy playing the pool just like my participants do. Further, I don't risk having false prizes advertised because some deliquent participants decided to play and end up not paying because of their poor pick results. Believe me, I've been shafted before in my earlier, more lenient days!
A good way to achieve this is by advertising a deadline and warning your participants that all unpaid entries will be removed from the pool after the deadline. As the deadline approaches, I typically send a couple of friendly reminders to participants with outstanding entry fees.
Once past the deadline, I do allow a small grace period depending on the pool format, as things do happen and it's in everyone's best interest if I allow a little leniency: more people = bigger prizes, remember? 😁
For those participants however, I lock their entries as it's an effective method to get their attention. This keeps them in the pool but they're essentially blocked from doing anything until they contact me to unlock them (this can be done under the Manage Participants page). If I don't hear from them after a few days, I remove their entries from the pool. While it may seem harsh, it shows I'm trying to run a legit pool and if they want to play in future pools, they know they have to pay to play!
I let the site declare my prizes automatically based on the number of participants, so I remove any participants that aren't actually playing as soon as possible. Sometimes people join in error or just have a change of heart. Removing those "dead" entries as soon as possible ensures the prizes advertised are accurate and I won't have any explaining to do after a period of having wrong prize amounts advertised.
TIP:
Excuse the shameless plug here, but Office Pool Junkie has a handy feature under the Manage Participants page that allows you to keep track of all your entry fees. I use it religiously!
5. Make it an Interactive Experience
Use the message board to engage your participants about the upcoming games, or some harmless trash talking. The more interactive the experience, the more fun it is for everyone.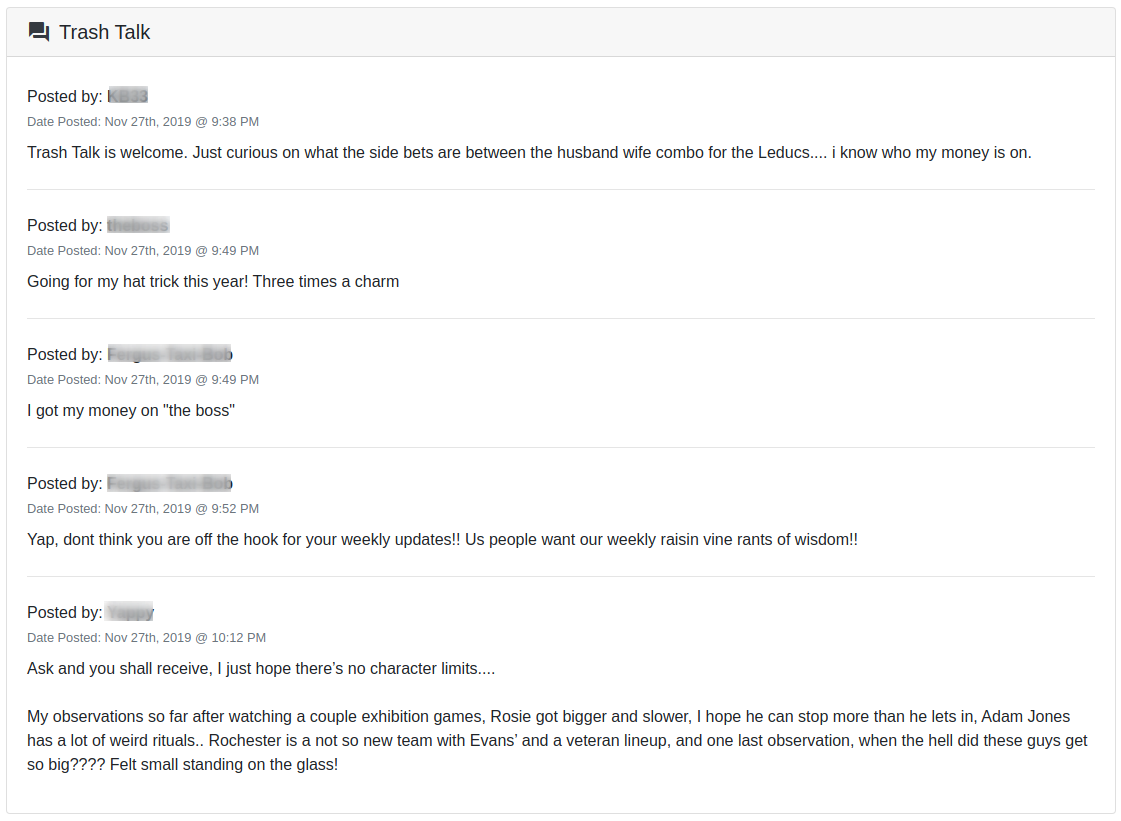 6. Don't Cheat!
As admin, you can setup your pool to enable the ability to make picks (for you or any other participant) past any deadlines. Don't risk the trust your participants have put in you by abusing your admin privileges.
NOTE: to ensure all pools run on OPJ have 100% credibility, all save attempts are logged and are made available to all participants.
7. Pay Out Promptly
If you're paying out winners, pay them promptly! People appreciate getting paid their winnings promptly, just as you appreciate them paying their entry fees promptly.